My posts will be quite different from Andrew's — mainly photos and not so eloquent.  🙂  Our first outing in Normandy was Sainte-Mère-Église and Utah Beach.  Grammy and Pa have rejoined our trip.  They finished a 4 week tour of the UK and visited us for a few days before heading back to Paris to fly home.  Caleb loves war history — especially WWII history.  This was a special day for him – getting to see and touch the things he has been reading about for years.  I have to admit, I knew very little about D-Day before this week.  Truly heroic men risked (and many lost) their lives to liberate France.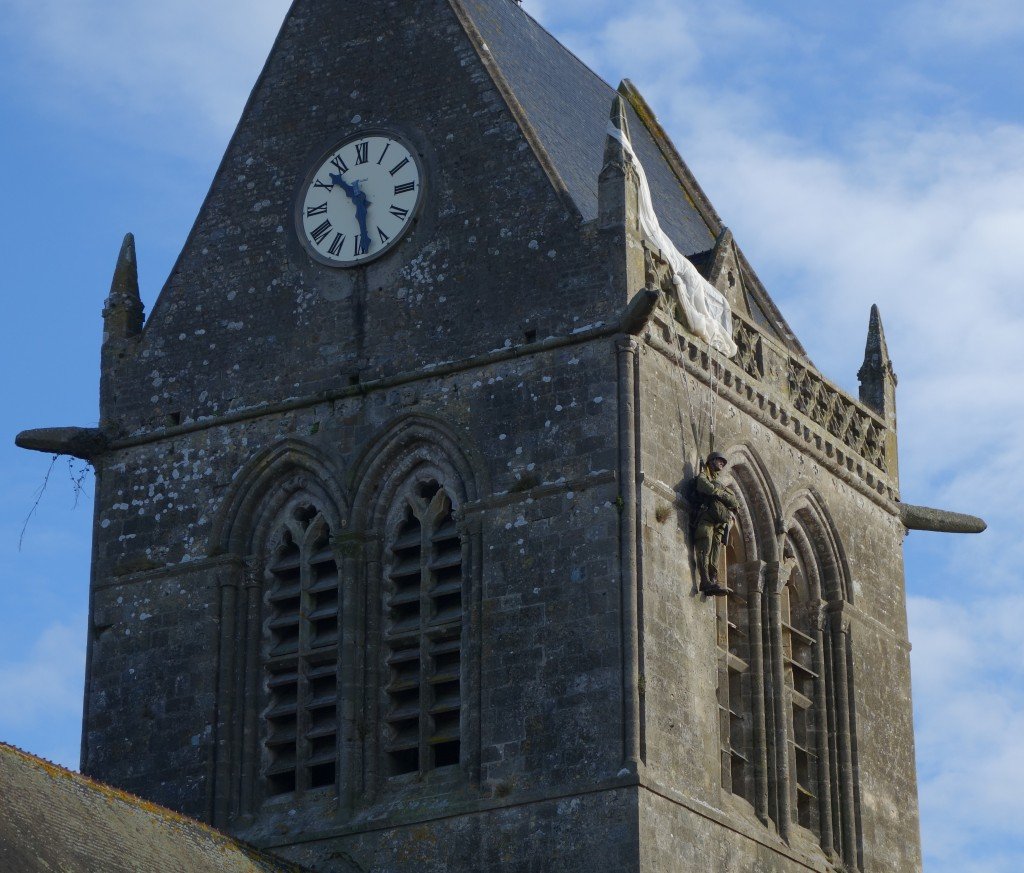 On the morning (just after midnight) of June 6th, 1944, paratroopers were sent into Sainte-Mère-Église.  One of the paratroopers – John Steele –  was caught on the church steeple and captured by the Germans.  He later escaped. The paratrooper that hangs on the church today and the stained glass in the next photo show the town's appreciation of these brave men.
After years of praying for freedom from their Nazi oppressors, I am sure the paratroopers dropping from the skies that night were seen as heaven-sent to the families of Sainte-Mère-Église.
The community made and embroidered pouches from the parachutes.  They placed dirt from the cemeteries in them and sent them to the families of the fallen soldiers in America.
After eating our new favorite lunch (anything on a fresh, French baguette) we were off to the museum.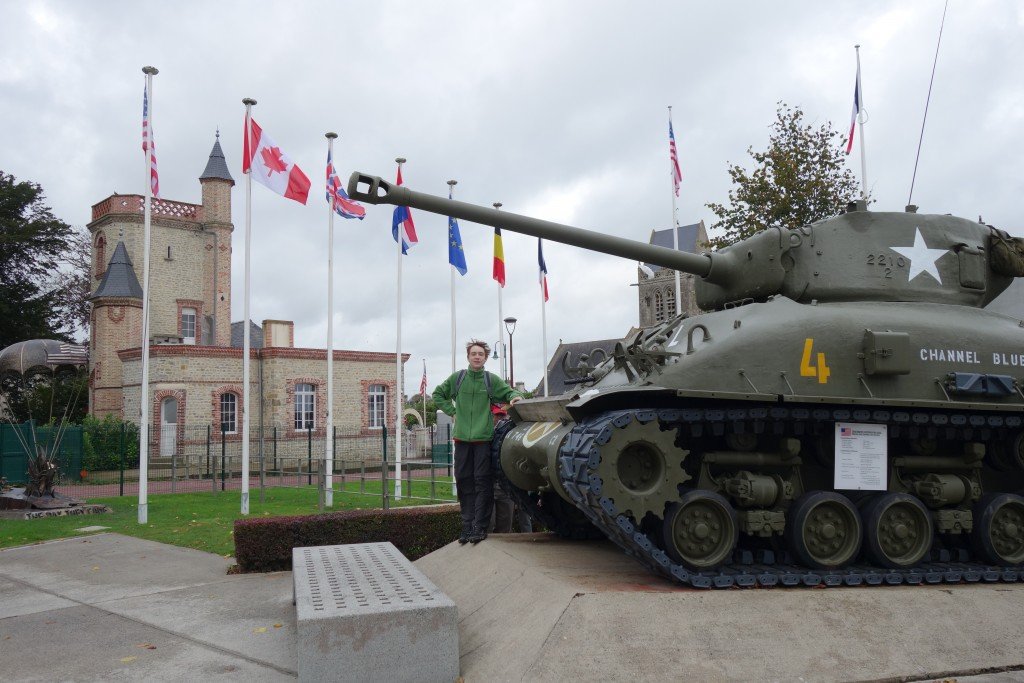 Caleb with a M4-A3-E8 Sherman (yes, Caleb just spelled that for me)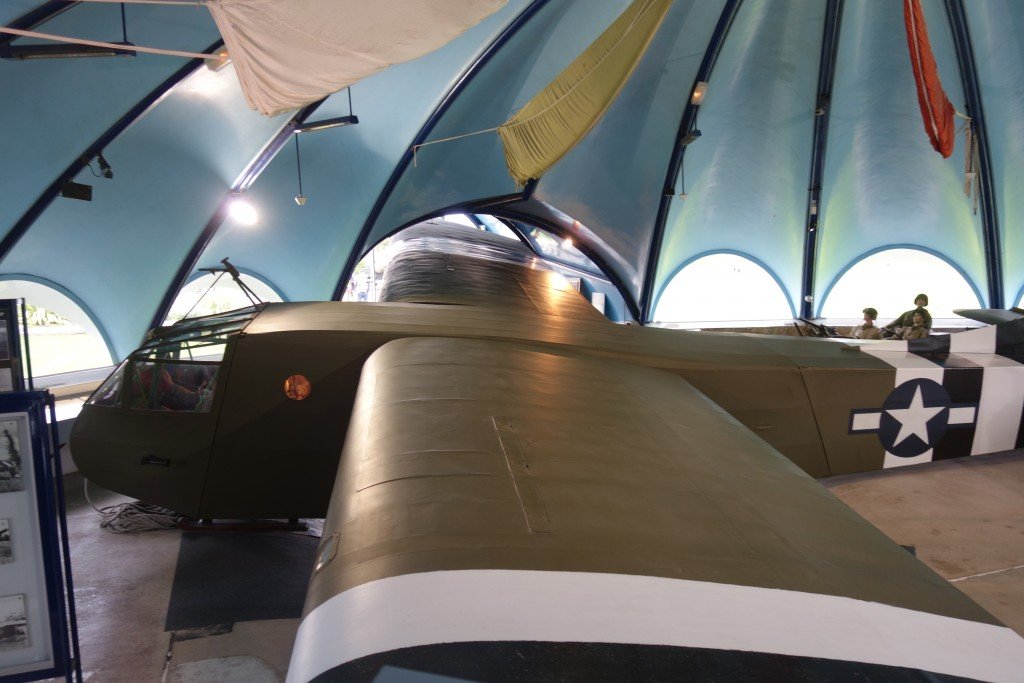 This glider has no motor, is made from wood, wire, and fabric.  It was loaded with jeeps and men, pulled behind a cargo plane with a rope, then released to glide to the ground in Normandy.  Just unfathomable to me!!!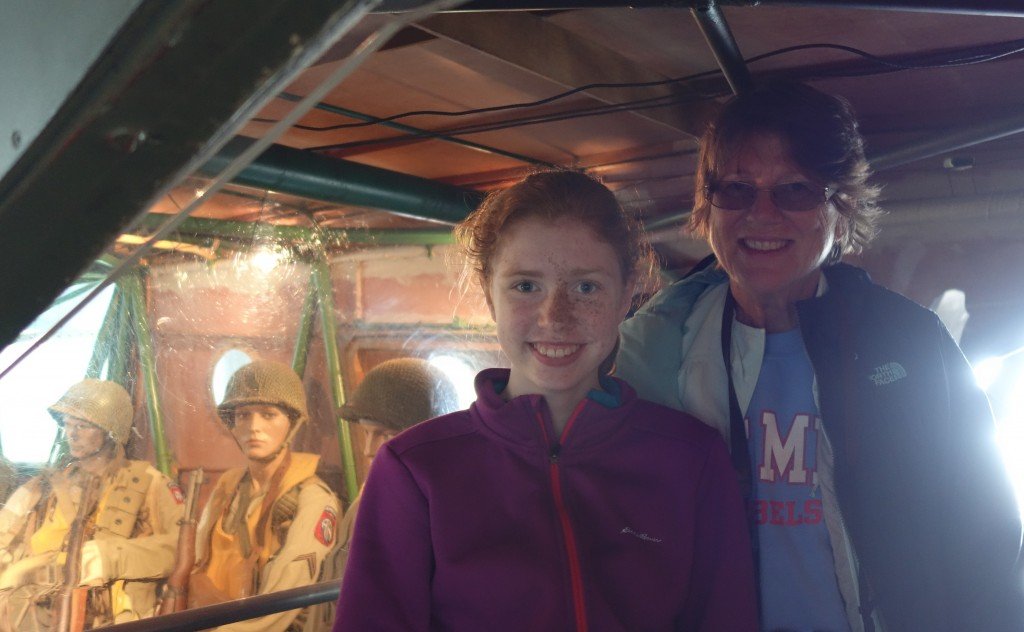 Anna and Grammy looking inside the glider.
On to Utah Beach and the German bunkers.  It was VERY cold and windy!
After the paratroopers landed in the nearby region during the night, the American infantry arrived by sea in the morning. Over a hundred thousand men landed on the D-Day beaches under fire from bunkers like this. These bunkers were a part of the Atlantic Wall built by Nazi Germany to protect the land they had conquered and occupied.
We  found our first German bunker.  Caleb has been talking about exploring these abandoned bunkers since our first stage of trip planning.
Checking out the enemy's point of view.
Bunkers, bunkers, everywhere……
The kids did not let the cold and rain deter their zest for exploration.
Finally, here is Caleb showing his support by disembarking with the troops from a Higgins boat (thankfully without the artillery fire from surrounding bunkers).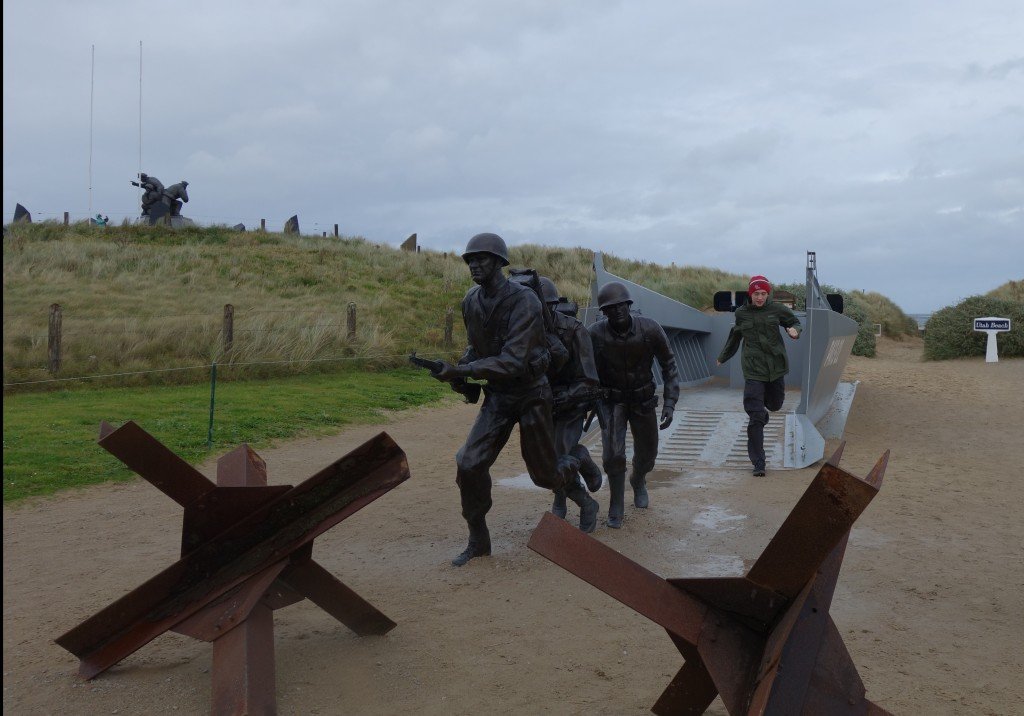 -KLaff 10/13/15